Research Experience for Undergraduates in the Biogeosciences
May 29 – August 3, 2012*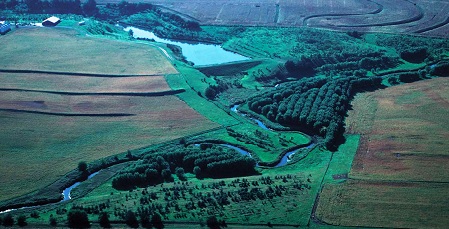 APPLY NOW!
*Applications not accepted until 2015

Program Overview
The summer Undergraduate Research Experiences in Biogeosciences at Iowa State University will provide research experiences and professional development for talented undergraduate students in the biogeosciences, defined broadly as research that links biophysical, geophysical, and geochemical approaches to understanding the Earth's systems.
Students will gain practical research skills in computer modeling, field methods, and/or experimental design by conducting independent projects under the guidance of experienced faculty and research scientists. Other activities of our REU Program are designed for social, leadership, and professional development of the undergraduate participants. Students selected for the program will work on interdisciplinary teams with faculty, graduate students, post-docs, and in some cases industrial partners. They will also engage with students participating in other Iowa State University based REU program in seminars, short courses, research tours, field trips and social events with mentors, graduate students, postdoctoral associates and others involved in related research.
A research colloquium will introduce participants to the interdisciplinary field of biogeosciences and help them place the summer experiential learning in context. Through field trips, the REU students will visit important ecological areas in Iowa, such as the Neal Smith National Wildlife Refuge and Prairie Learning Center and a central Iowa riparian buffer system. Students will develop communication skills in public speaking by presenting project results as oral presentations at the annual research symposium at the conclusion of the summer program. Other activities planned include ethics training, career workshops, and "sharing science" community outreach.
The REU Site Program will provide students with a summer stipend, which will include housing and traveling allowance and a budget for supplies. For many participants, the REU Site Program will be a stepping-stone from undergraduate studies to graduate research programs in the field of biogeosciences. For other students, the REU Site Program will offer research experiences that provide a foundation for careers in secondary education, government agencies, environmental consulting, and other professions.
In 2012, the BioGeo REU program will enroll a cohort of ten students, each of whom will be placed in an ISU research team.  Students will be expected to work in a research lab for 40 hours per week, participate in weekly lab meetings and all other scheduled events. At the end of the program they will be required to present their research findings at a poster symposium.
2012 BioGeo REU program details – includes stipend, travel, housing, and field trip information
2012 BioGeo REU faculty mentors – when applying, students select their first, second, and third faculty mentor choices for their research experience. Read through the project descriptions and faculty information to make your selections. Please include only the last name of your faculty mentor choices on your application.
Application deadline is March 23, with review of applications beginning March 16.

*Each participant is expected to stay on campus during the dates of the program with the exception of the 4th of July weekend. Any proposed conflicts must be noted in application and will be addressed on an individual basis.