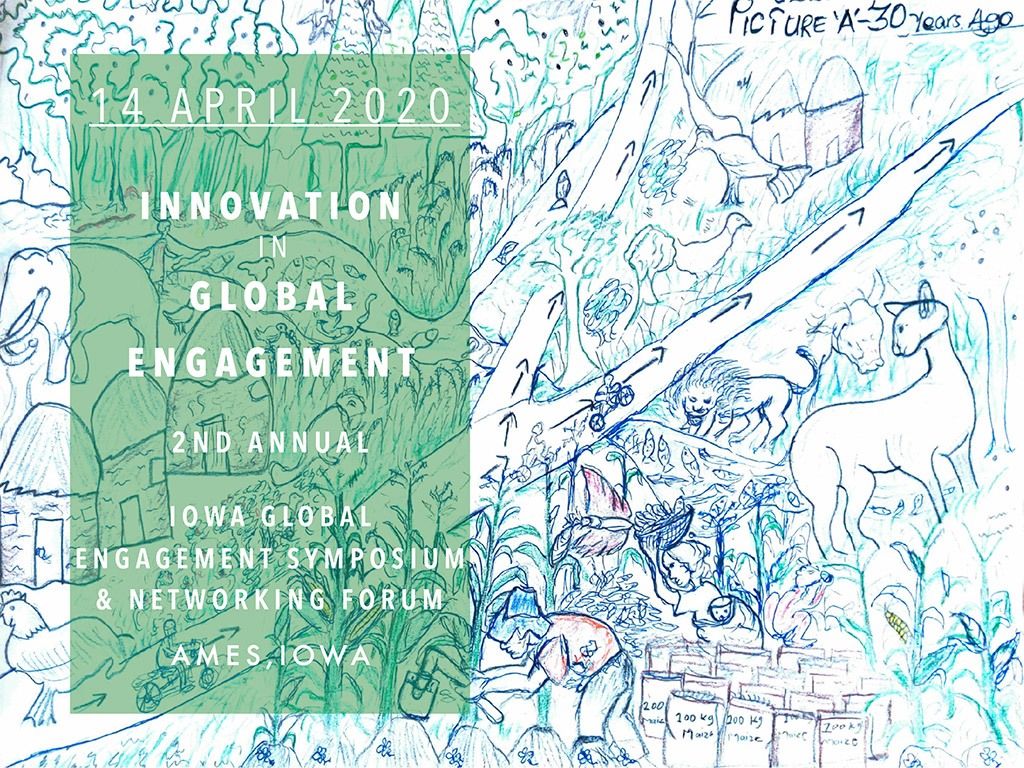 April 14, 2020
8:30 a.m. – 3:45 p.m.
1306 Elings Hall and Sukup Atrium
The symposium will feature speakers' experiences with and perspectives on innovation in international outreach. The purpose of the symposium is to have a dialogue and ultimately stimulate intentional global scale engagement and discuss strategies for institutions and individuals to continue (and ideally expand) their involvement in global programs. The symposium will also sport a selection of brief display and poster talks relating to current programs and projects with a global focus, followed by facilitated round table networking on innovation in global engagement.
If you have questions or need additional information about the symposium, please contact Kyle Poorman at kpoorman@iastate.edu.
Speakers
Lucyna Kurtyka
Lucyna Kurtyka joined the Foundation for Food and Agriculture Research in February 2016 as a Senior Scientific Program Director, bringing more than 20 years of nonprofit and private sector experience. Prior to joining FFAR, Ms. Kurtyka was Global Lead on Food Policy and International Organizations at Monsanto Company, where she worked with intergovernmental organizations, national and international professional associations, other companies, and governments to encourage science based regulation, standards, and oversight of crops and foods produced through biotechnology.
Ms. Kurtyka's wealth of nonprofit sector experience covers many facets of the global food system. As program officer at the National Academy of Sciences/National Research Council's Board on Agriculture and Natural Resources, she managed projects in the areas of food and fiber systems, agricultural research, natural resource management, and international trade and economics. At the International Life Sciences Institute, Ms. Kurtyka directed international projects related to the development and safety of biotech foods and to natural toxins and pesticide residues in foods. Prior to that, while at AOAC International, Ms. Kurtyka oversaw the validation and approval process for analytical methods published in the Official Methods of Analysis, which are used in nutrition labeling and serve as standards for regulatory purposes in food safety, nutrition, agricultural commodities, pesticides, and environmental quality.
Ms. Kurtyka holds an M.S. degree in food technology from the Agricultural University in Krakow, Poland. She is committed to working toward food and nutrition security for future generations by applying her knowledge and experience to addressing today's food and agriculture challenges.
Steven T. Sonka
Steve Sonka is Emeritus Chaired Professor of Agricultural Strategy at the University of Illinois. Currently he also serves as Fellow at the Ed Snider Center for Enterprise and Markets at the University of Maryland and Senior Economist at the National Great Rivers Research and Education Center. A co-founder of the Centrec Consulting Group, LLC, in Savoy, Illinois, he was a partner there for more than 25 years.
At Illinois, he was the first faculty member to hold the Soybean Industry Chair in Agricultural Strategy, funded by Illinois soybean farmers. During his tenure at Illinois, he served as the Vice Chancellor for Public Engagement, the first Director of the National Soybean Research Laboratory, and the first Director of the ADM Institute for the Prevention of Postharvest Loss.
From an Iowa farm family, Dr. Sonka received a Bachelor's degree (1970, with distinction) and a Ph.D. degree (1974) in economics from Iowa State University. He joined the University of Illinois faculty in 1975. Since then, he also has held assignments with the Monsanto Corporation; New Zealand's AGMARDT Foundation; Arthur Andersen & Co.; and the Institute of Agribusiness, Santa Clara University.
Dr. Sonka's teaching and research emphasize strategic change and decision making in the food and agribusiness sector. He has authored or coauthored over 220 books, articles and publications. In 1983, he authored Computers in Farming, the first text devoted to computer use in the sector. An internationally known scholar, he has been recognized with national professional awards for the quality of both his teaching and research. Dr. Sonka is well known for his unusual ability to relate that scholarship to practical issues of importance to decision makers. His international experiences include consulting and lecturing on every continent except Antarctica.
Chris Martin
Chris Martin currently serves as professor of furniture design in the Department of Art & Visual Culture at Iowa State University. He received a BFA in Craft Design from Iowa State University in 1990 and an MFA in furniture design from Rhode Island School of Design in 1994. Since then he has designed and produced furniture pieces for both commission and gallery exhibitions both domestically and internationally.
In 2008 Martin took leave from teaching to serve as a U.S. Peace Corps Volunteer in the West African country of Ghana. Ghana is a country with a very rich history of traditional craft. So during his 27 months of service, Martin spent as much time as possible seeking out craft villages and meeting the makers. In 2016, Martin was awarded a Fulbright Fellowship to work with traditional artisans in India. With Ahmedabad as his home base, Martin worked with local artisans to highlight India's rich craft history through the creation of contemporary furniture forms that can be produced for both the U.S. and Indian markets.
Martin has been deeply influenced by his time in both Ghana and India as shown through his teaching and his creative work. He has developed and teaches courses on how artists and designers can play a positive role in sustainable development. He also leads study abroad opportunities to Ghana and Uganda where students engage in collaborative service learning projects In his own creative work, he focuses on working in partnership with traditional artisans from low and middle income countries to investigate new avenues for them to produce and sell their work, with the desired goal of sustaining the art of traditional craft.
www.chrismartinfurniture.com
James Oliver
James Oliver holds the title of University Professor at Iowa State University (ISU), serves as the Larry and Pam Pithan Professor of Mechanical Engineering and is the inaugural Director of ISU's new Student Innovation Center. In this role, Oliver provides overall leadership, vision and direction for the facility – including planning and implementing academic programming – and fosters engagement among students and external stakeholders. For the previous 15 years Oliver served as Director of ISU's Virtual Reality Applications Center (VRAC), an interdisciplinary research center focused on emerging interface technologies. Professor Oliver also developed and directed ISU's Interdepartmental Graduate Program in Human Computer Interaction (HCI) that complements the VRAC's research mission by providing PhD, MS, and Professional Certificate degrees in HCI.
Professor Oliver's research spans a wide array of emerging interface technologies, encompassing computer graphics, geometric modeling, virtual and augmented reality, and collaborative networks for applications in product development, complex system operation and training. Several Federal agencies, including the NSF, NASA, ONR, AFRL, US Army, as well as numerous industry partners have funded his research. Oliver is a Fellow of the ASME, holds three U.S. patents, and is the recipient of numerous professional honors and awards. In addition to his Iowa State responsibilities, Oliver co-founded BodyViz, a technology startup focused on low-cost, easy-to-use medical visualization with sales in the medical, education, veterinary and legal markets; and he formerly headed software product development for Engineering Animation Inc., (NASDAQ: EAII)
Dirk E. Maier
Dr. Dirk E. Maier is a Professor and Post-Harvest Engineer in the departments of Agricultural & Biosystems Engineering and Food Science & Human Nutrition at Iowa State University. He is responsible for leading an internationally recognized research and outreach program in post-harvest engineering and technology applied to global food security and nutrition. He serves as Director of the Consortium for Innovation in Post-Harvest Loss & Food Waste Reduction which aims to achieve sustained, scalable implementation of appropriate methods to preserve, process, package, and transport nutritious foods. His current graduate students are from the U.S., Ivory Coast, DR Congo, Rwanda, Uganda, Ghana, and the Philippines.
Exhibitors