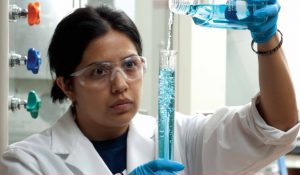 Professor in Charge
Michelle Soupir, Associate Professor, ABE-ISU
Research Staff
Leigh Ann Long, WQRL Manager

The purpose of ABE's Water Quality Research Laboratory (WQRL) is to facilitate research on water quality, specifically on investigating the occurrence, fate, transport and control of microbiological or chemical pollutants in natural and engineered environmental systems. WQRL is located in Rooms 4205 and 4207 of Sukup Hall on the Iowa State University campus.
The WQRL has separate spaces dedicated to research on pathogens and pathogen indicators (Room 4205) and nutrients and chemicals of emerging environmental concern (Room 4207). The laboratory is equipped with instruments used for routine chemical and microbiological analyses such as balances, pH meters, centrifuges, ovens, waterbaths, incubators, stir plates, membrane filtration devices, environmental shakers, autoclaves, biosafety cabinets, and laminar flow hoods. We have a Bio Rad C1000 Thermal Cycler for PCR and Syngen Ugenius Gel documentation system.  Nutrient analysis is conducted with our SEAL AQ2 discrete analyzer and an Agilent Cary 8454 UV-Vis Spectrophotometer.  Other resources in the WQRL include a Sequoia LISST-100X submersible laser-diffraction particle size analyzer and a Nexcelom Auto M10 Cellometer. We also have a Varian HPLC with gradient pump, autosampler, and photodiode array detector.
Per sample pricing is available in the document below.  All listed rates are for internal (Iowa State University PIs) clients.  An indirect rate of 50% will be applied to all external samples.
Water Quality Research Laboratory Methods and Price List