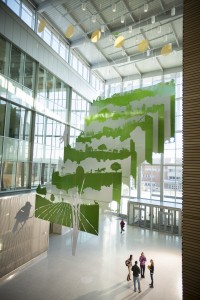 We are faculty, staff, graduate students, undergraduate students, and scholars, all engaged in and committed to learning, discovery, and outreach.
Since 1905, the Department of Agricultural Engineering, now the Department of Agricultural and Biosystems Engineering (ABE), has been a leader in providing engineering solutions to agricultural problems in the United States and the world. The department's original mission was to mechanize agriculture. That mission has evolved to encompass a global view of the entire food production system–the wise management of natural resources in the production, processing, storage, handling, and use of food, fiber and other biological products.
Current research efforts include agricultural water quality and management, engineering for economically and environmentally sound animal production systems, grain handling and food processing, agricultural machine design and automated controls, precision farming systems, agricultural safety, seed conditioning and processing, and soil tillage and management systems.
The Department of Agricultural and Biosystems Engineering resides in both the College of Engineering and the College of Agriculture and Life Sciences.
Offices
Department Chair: Dr. Amy Kaleita, 1340B Elings Hall, 515-294-1434
ABE Main Office: Cindy Frame, 1340 Elings Hall, 515-294-1434
ABE Graduate Programs Office: Kris Bell, 1350F Elings Hall, 515-294-1033
ABE Undergraduate Advising Center: Emily Mitchell, 1320 Elings Hall,  515-294-9449
 Hours
Monday through Friday, 8:00 AM to 5:00 PM