The agricultural engineering and biosystems engineering programs are accredited by the Engineering Accreditation Commission of ABET.
The agricultural systems technology and industrial technology programs are accredited by the Technology, Management, and Applied Engineering Accreditation Commission of ATMAE.
Our Continuous Curricular Improvement Process
We work with key constituents to determine the outcomes expected of our students at time of graduation and we use assessment to determine whether or not students achieve these outcomes. These assessments inform our continuous curricular improvement process, thereby making our degree programs more valuable to our students and to society. Our accrediting institutions require we publicly post key information about our programs. Please see the relevant link below for each program:
Engineering Degree Program Mission, Current Enrollment, Graduation Numbers, Program Educational Objectives, and Intended Student Outcomes (per ABET):
Technology Degree Program Option Mission, Program Objectives, and Intended Student Outcomes (per ATMAE):
We developed and implemented a novel assessment model based on Workplace Competencies– skills, attitudes and behaviors that students will need to be successful practicing professionals. These competencies are more than assessment metrics. They are integrated into the curriculum in the form of competency-based learning.
---
About Accreditation
Accreditation ensures the quality of the postsecondary education students receive. In all cases, accreditation fundamentally involves the evaluation of academic programs to verify that they are educating students according to disciplinary norms. In many cases – as with engineering licensure – graduation from an accredited program has profound impacts on the professional opportunities for students. For this reason, all ABE programs are accredited.
Engineering Degree Programs: ABET, Inc., is the premier global accreditor of college and university programs in engineering. In the fall of 2012, both the agricultural engineering program and the biological systems engineering program successfully completed an accreditation review. A team of ABET professionals visited the ISU College of Engineering and the ABE department in the end of October, 2012 for on-site inspection and discovery. We submitted our self-study report in June, 2012 for their review. The report was the basis of their evaluation.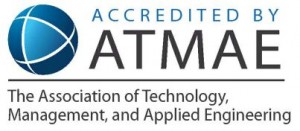 Technology Degree Programs: The Association of Technology, Management, and Applied Engineering (ATMAE) is recognized as a premier accreditor of technology programs in colleges, universities, and technical institutes. In the spring of 2015, our ATMAE self study report and appendix was submitted and the accreditation team visited the ISU campus. The two industrial technology (ITec) degree options and the two agricultural systems technology (AST) degree options were accredited by ATMAE in the fall of 2015. This ATMAE accreditation is valid until 2020 when the self study report and visit process begins again.