Undergraduate Programs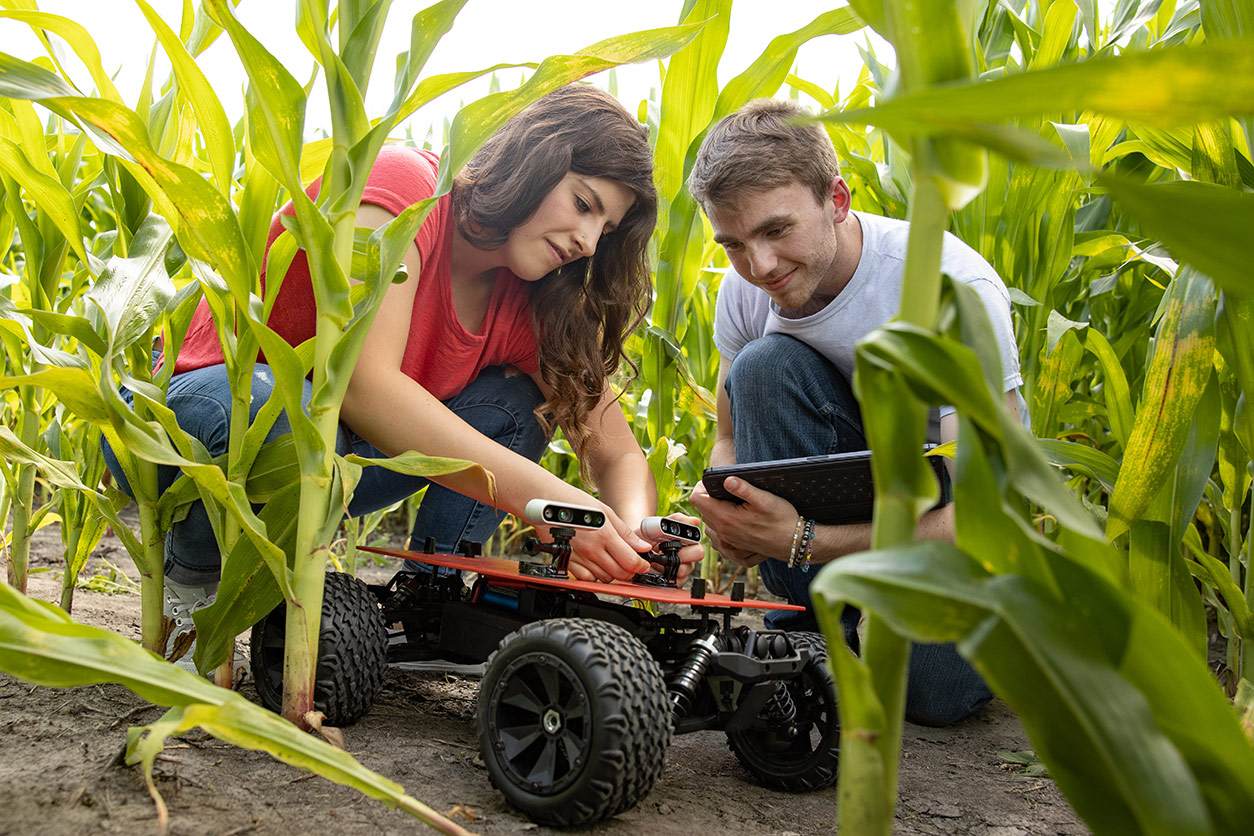 Engineering Majors
Emphasis on theory and engineering design learning environments.
Technology Majors
Emphasis on experientially-based (hands-on) learning environments.
Engineering or Technology?
The undergraduate ENGINEERING programs:
Begin with an emphasis on calculus and calculus based sciences
Have engineering courses later in the curricula that build on the calculus/sciences base
Integrate design and applications into engineering lecture and laboratory course work
Have a stronger emphasis on theory and engineering design
Culminate in a major senior design experience
Curricula offers flexibility so that students can customize their studies to suit their career and research interests – there are three options in agricultural engineering (A E) and four in biological systems engineering (BSE). Both AE and BSE students can take the fundamentals of engineering (FE) exam as a first step on their way to becoming licensed professional engineers. Engineering programs are ABET accredited.
The undergraduate TECHNOLOGY programs:
Appeal to the student who learns best in an experientially based (hands-on) environment
Introduce and integrate math and sciences as needed in the curricula
Contains departmental technology courses that are available every semester
Has a moderate emphasis on theory and design processes
Have an intensive laboratory and applications focus
Culminate in a senior level project experience
Technology students are required to do internships prior to graduation, and rate these experiences among the most useful parts of their overall educational experience. Students also participate in a required two-semester, 6-credit capstone project experience, allowing students to dive into the details of an industrially-relevant project. Technology programs are accredited by Association of Technology, Management, and Applied Engineering (ATMAE).

Questions? We are here to help!
Not sure which major is right for you? Want to learn more about our department and programs? Considering a minor? Just have a few questions you'd like to run by our professional staff? We can help!
To schedule an appointment, contact our advising office at 515-294-9449 or abeadvising@iastate.edu, or stop by our student services suite at 1320 Elings Hall.