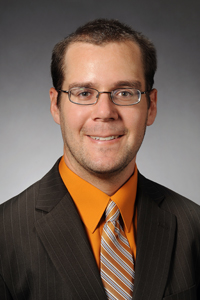 Research:
Dr. Andersen's research interests are in the areas of manure management and water quality. Specifically the areas of manure treatment and nutrient
management planning, field and farm scale soil and water quality monitoring and modeling, and economic evaluations of agricultural waste management alternatives. As part of his manure treatment efforts he works on anaerobic digestion systems, nutrient separation and recovery, and integration of physical, chemical, and biological waste treatment methods in agricultural systems. His work has also provided solid experiences in monitoring aspects of the carbon, nitrogen, and phosphorus cycles in agroecosystems, quantifying and mitigating nutrient transport from agriculture, and evaluate the impact of manure application on soil physical and chemical properties. Much of his current work focuses on anaerobic digestion, nutrient management and conservation, and the control of feedlot runoff.
Extension:
Dr. Andersen's extension program focuses on the areas of manure treatment, management, and utilization. He believes in putting the land-grant mission to work by closely linking his research program to his outreach efforts, striving to demonstrate viable solutions and get them in the hands of those who need them.
Goal:
The goal of Dr. Andersen's research and extension work at Iowa State University is to improve soil, water, and air quality by promoting the development and implementation of agricultural waste management systems that are environmentally sustainable, economically feasible, and socially acceptable through the use of extension programming, state-wide training, and a mix of fundamental and applied research.