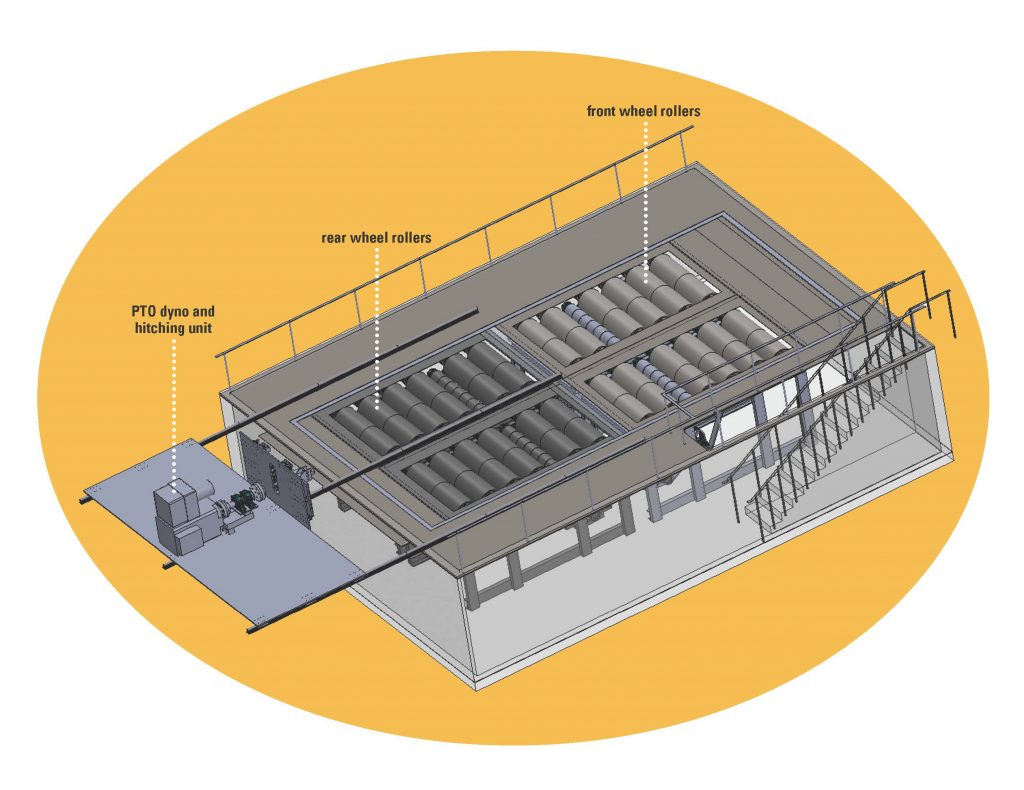 Iowa State University's Department of Agricultural and Biosystems Engineering (ISU ABE) is installing a new state-of-the-art off-highway vehicle chassis dynamometer at the ISU Agricultural Engineering and Agronomy Research Farm.
The state-of-the-art dynamometer will enable controlled, dynamic testing of complete off-highway vehicles with advanced traction control systems. The facility is designed to test vehicles up to 450 kW (600 Hp), with speeds of up to 80 km/h (50 mph), and offers independent monitoring and loading of each wheel. The chassis dynamometer will be one of the few facilities capable of testing large construction and farm machinery.
Benefits to industry
Evaluation of vehicle performance and energy efficiency of off-highway vehicles under controlled test conditions
Testing interactions between vehicle components and control systems
Total vehicle performance, under both dynamic and steady state loads
Collection of accurate, precise, repeatable data for complete machines difficult to obtain in outdoor environments
Teaching environment in which students can become turnkey ready for occupation
Possible tests
Fuel-to-wheel energy efficiency
Drawbar power test
High speed test
Dynamic braking test
Simulation of uphill/downhill driving and braking
Hill cresting test
Startup torque test
Vehicle Chassis Dynamometer capabilities
Wide range of off-highway vehicles, including tractors, combines, sprayers, rubber-tracked equipment and wheel loaders
Absorbing or motoring up to 450 kW (600 Hp) per corner, with independent loading at four corners
Wide range of speeds from 5 to 80 km/h
PTO Dynamometer to absorb or motor up to 250 kW (350 Hp) at 1000 rpm, and 85 kW (115 Hp) at 540 rpm
Vehicle weights up to 311 kN (70,000 lbs)
Wheelbases from 1.5-4.3 m ( 60-170 in)
Minimum inside tire width of 762 mm (30 in)
Maximum outside tire width of 4.3m (170 in)
Total horizontal tractive draft forces 222 kN (50,000 lbs)
Simultaneous loading of Chassis and PTO Dynamometer
Regenerative AC Dynamometers (Power generation in absorption mode)
Accommodates both tires and tracks
Vehicles
The system will accommodate a wide range of vehicle platforms and sizes.
Skid-steer loaders
Compact-utility tractors
Row-crop tractors
Four wheel drive tractors
Sprayers
Combines
Front end loaders
Commissioning of the facility is planned for early fall of 2021. For more information, please email dyno@iastate.edu or telephone Stuart Birrell at 515-294-2874 or Brian Steward at 515-294-1452.
Iowa State University gratefully acknowledges Danfoss Power Solutions for their donation to make this facility possible.