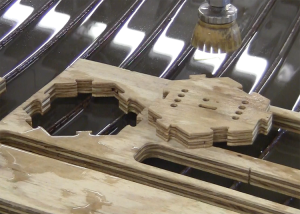 The Student Innovation Center Laboratory of the Department of Agricultural and Biosystems Engineering (ABE) features a Flow Mach 2 abrasive waterjet capable of cutting a wide variety of materials. ABE's waterjet is primarily used to cut parts used in ABE undergraduate and graduate coursework and for ABE-led research projects. The waterjet is operated by ABE staff, and is also available for reasonably-sized cutting projects to other Iowa State University (ISU) Engineering departments, ISU non-engineering departments, and various ISU-sanctioned groups.
Part Design Guidelines
Parts are cut based on two-dimensional drawings submitted in DXF format

AutoCAD, Solidworks, Autodesk Inventor, and other CAD software are all capable of exporting parts in a DXF format

Ensure that the DXF is submitted in 1:1 scale
DXF part file naming should be descriptive and must include your name, part name, material thickness, and quantity. Example: waterjetuser_samplepart_250in_8pcs.dxf
Maximum part dimension size is 120.0″ L x 78.0″ W
Allowable Materials:
Aluminum
Steel
Plexiglass
Glass
Wood (plywood, OSB, pressboard, solid wood)
Rubber
Foam
Fiberglass
Composites
Non-Allowable Materials:
Tempered Glass
Advanced Ceramics
FAQ's
Please submit the following request form to waterjet@iastate.edu to request waterjet cutting.